Napkins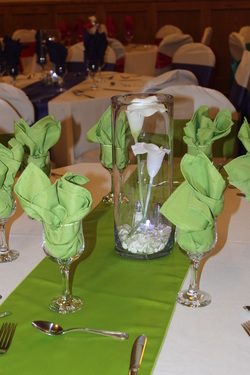 We have linen napkins available in a wide variety of colors! Spice up your reception venue by adding a POP of color with your napkins. They can be placed in your glasses, around the plates or folded on the table. The napkins are 100% polyester and 20" X 20" in size. Black, white & ivory napkins are $0.50/ea and all of the other in stock colors are $1.00/ea. Special order $1.25.

See below for individual pictures, pricing and availability of each color.

**If you have to decorate your venue the day of your event, Pink Tie Events also offers delivery, set-up and take-down rates on all linen items.


---
Tablecloths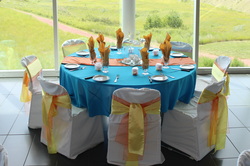 We carry tablecloths in a wide variety of sizes, shapes and colors. In most instances, your caterer will provide tablecloths and linen napkins for your reception, however, in the event that they don't, you are doing your own catering, or you just want something more than your caterer can offer you, visit Pink Tie Events to see what we can do to make your venue stand out from the rest! We have tablecloths for round, square and rectangular tables. If your budget won't allow bright colored tablecloths for all of your guest tables, consider doing your sign-in table or your cake table with a colored tablecloth or just a few of your guest tables to add some color.





PRICING

Black White and Ivory
5' or 6' Round Tables - (84" X 84" Square) - $8.00/ea to rent
6' or 8' Rectangle Tables - (54" X 120") - $8.00/ea to rent
6' or 8' Fitted Tablecloths (drape to the floor on every side) Usually used to skirt the head table - $20.00/ea to rent

Colored
(Available in MANY colors)
5' or 6' Round Tables - (90" Round) - FROM $12.00/ea to rent
6' or 8' Rectangle Tables - (54" X 96" or 54" X 120") - FROM $12.00/ea to rent


---