---
**NOTE: We we will be CLOSED on Wednesday April 11th 2018 to set-up for the Celebrate Downtown event for the City of Lethbridge - Heart of Our City Committee. I apologize for the inconvenience and please call me at 403-795-4330 with any questions or to book an appointment for another day. We will re-open with regular Wednesday business hours on April 18th 2018.

Welcome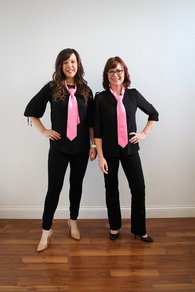 Planning a wedding, party, fundraiser or corporate event? You've come to the right place! We are your Pink Tie Team; Whitney Bullock and Ashley Walker. When it comes to decorating, Pink Tie Events is your clear choice.

Since 2011. Pink Tie Events has been planning and executing some of the very finest private parties, weddings, and corporate events in Southern Alberta.

We're happy to share our expertise and provide you with everything you need to make a lasting impression - from unique industry tricks & ideas to practical tools you'll need to execute a successful event.

We offer rentals and full decor packages including chair covers, skirting, table cloths & napkins, backdrops, centerpieces, chairs, cocktail tables and much more!

We also offer corporate planning to create a stress-free event.

---