Pink Tie Events is located downtown, across from Once Upon a Bride, directly above the Drunken Sailor. Open Wednesdays 9:30-5:30 or by appointment any other day/time that is convenient for you.

321a 6st. South, Suite 2 (upstairs)
Lethbridge, AB T1J 2C7
Phone: (403) 327-3494 facebook.com/pinktielethbridge

Whitney: (403)795.4330 whitney@pinktieevents.ca



---
Thank you!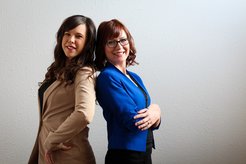 After realizing Lethbridge had an unfulfilled niche, Ashley Walker & Whitney Bullock began the journey of building a wedding and event rental business. In January of 2011, the doors opened and their dream of providing superior service, unlimited color choices and quality rentals to brides. Since then, the company has evolved to include not only rentals for brides, but set-ups and full packages for any event: weddings, fundraiser, staff parties, grand openings, Christmas & Holiday parties, anniversaries, etc.

Pink Tie Events was the 2011 winner of the Chinook Entrepreneur Business Plan Challenge held by Community Futures, as well as, named New Business/New Venture of the 2011 year through the Lethbridge Chamber of Commerce. At Pink Tie Events, we continually strive to provide excellent customer service and decorating assistance to everyone involved in planning an event, as well as, bring unique and trendy new ideas and products to the Southern Alberta Wedding Industry.

​"We are always so honored when anyone (brides, corporations, caterers, etc) choose to work with Pink Tie. We are so grateful for all the support the community of Lethbridge, as well as surrounding areas, have given us over the last two years. We love what we do, and could not have gotten this far without our amazing clients."
Ashley Walker & Whitney Bullock
---