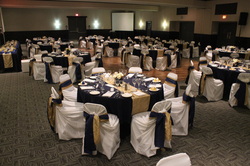 ENMAX Centre Grand Opening of lounge March 2012:
"Ashley, I also was so impressed, thanks for helping us with our vision! Looking forward to working together."
Jill Henderson –

ENMAX Events Manager
"Hi Ashley, Although I have not had the pleasure of meeting you, I wanted to echo Lana's comments the job you did was impressive, it changed people's belief on what we can deliver and set the stage for your services that we can sell to a number of clients.

Impressive...thank you for a job well done."
Kim Gallucci GM ENMAX Centre
"Hello Ashley and team!
Just wanted to express my sincere thanks to you for the amazing job on our event! You literally took my words, "A celebration of class" and made it come to life! We appreciate your efforts and look forward to working with you in the future."
Take Care, Lana Barlow
Sales and Marketing Manager
New West Theatre Season Launch May 2012:
"Dear Ashley & Whitney, Thank you for decorating the Sterndale Bennett Theatre for our Season Launch, and for attending. Pink Tie make the ordinary black box theatre look spectacular! The Season Launch is very important as it provides an opportunity for us to connect with our patrons, and with the support of local companies like you, it would not have been possible. Natasha & Jeremy."
New West Theatre season launch, May 2012