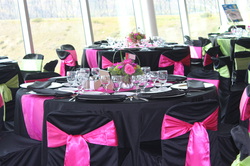 On Friday, August 16th Pink Tie sponsored the SASHA Almost Black Tie Fundraiser Gala for the 3rd year in a row. Last year it was at the Black Tomato, and this year the Galt Museum. We find ourselves at the Galt Museum loading dock nearly every Saturday at 10am unloading décor for our bride's wedding ceremony and/or reception... and then again at 12:15am to take everything down. It is a beautiful venue with fantastic staff and an amazing view. So when we learned that SASHA was holding their fundraiser there this year, we were so excited- although Whitney and I have walked through the sliding doors of the museum more times during the summer than most would their entire life, we had never actually had the opportunity to attend a sit down dinner there. And a couple weeks ago we had that opportunity, and it was wonderful. Tessa Dimnik, SASHA's summer student did a fantastic job planning and running the event. We were seated at table #1 (which we soon realized was the absolute best table because we were served dinner first) with some great people; Tymo and Jess from CJOC who were awesome emcees, and Joe and Michelle Perlich who ran the live auction.
The evening was lovely; and we were able to go home not have to worry about the take down at the end of the night-what a nice change!
SASHA House is an incredible organization which helps many people in our community. To learn more, visit
www.sashahouse.org
.
And if your interested in holding an event at the Galt, visit their website
www.galtmuseum.com
and to view photos of this event and for ideas of what you can do with this space, visit our Faceboo
https://www.facebook.com/media/set/?set=a.699322136749429.1073741856.191997704148544&