Welcome to Pink Tie Events' blog and first post! Since our very first event we decorated over 2.5 years ago, we have been very diligent about taking and posting photos of all our events. We have been involved in over 600 events now (roughly half of which we set up) and we have collected over 9000 photos.
As you can imagine, a lot of behind the scenes effort goes into the final result, which you all see in the photos. Actually, "effort" may be somewhat of an understatement. The truth is sometimes the beautifully decorated
wedding/fundraiser/corporate event was the result of a little blood, sweat and tears- literally! Whitney has cut
herself quite badly a number of times on her "Styrofoam cutting knife"; on weekends if you have seen the stairs we have to climb up from our storage area, the enormous and heavy bins we have to carry to and from venues and the hot sun we stand in setting up chairs you'll understand why we wear runners and doing our hair would be a waste of time; and we have both definitely had to hold back the tears from iron burns, and have the scars to prove it.
Of course with all of that, comes some pretty interesting stories, loads of fun & laughter, and more tears, but different kind of tears then we get from the iron. We love what we do, and have so much fun doing it. So, I think it's time to share a little bit of these behind-the-scenes situations and give you a little bit of an insight on the goings-on of the "Pink Ladies".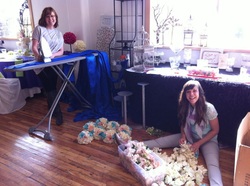 Blood and tears in the making